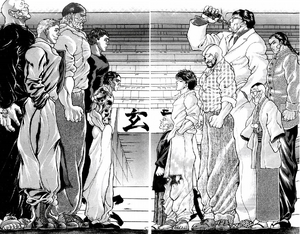 The Most Evil Death Row Convicts Saga (最凶死刑囚編, Sai Kyō Shikeishū Hen) is the first saga of Baki manga series. The Most Evil Death Row Convicts Saga was comprised chapters 1 to 158 of the Baki manga series.
The start of Baki introduces us to some seriously dangerous convicts. They are immensely strong and kill without warning. All of them escape from Maximum Security Prisons and some of them even defy the Death Penalty.
Ad blocker interference detected!
Wikia is a free-to-use site that makes money from advertising. We have a modified experience for viewers using ad blockers

Wikia is not accessible if you've made further modifications. Remove the custom ad blocker rule(s) and the page will load as expected.