Be warned that this wiki is filled with SPOILERS about the Baki the Grappler series!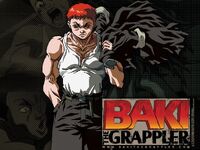 Baki Wiki, The source for anything Baki related!
Including Baki the Grappler, Baki, Hanma Baki, Baki-Dou, and more!
Baki the Grappler is a famous manga and anime series created by Keisuke Itagaki. The series has branched three sequels: Baki, Hanma Baki and Baki-Dou, which is currently ongoing. The series is about Baki Hanma trying to become strong enough to beat his father, Yujiro Hanma, who is the strongest man alive.
We are currently editing over 600 articles and 620 images and you can help!
We need your help! If you have knowledge about Baki series, you can help us with editing and making an articles!

Latest activity
Which is the best series in your opinion?